Pierogies Preparation
01.01.2023
Pierogies: Ingredients and preparation. Pierogi, also spelled perogi, perogy, or pyrohy, is a traditional Polish dish consisting of dumplings made of unleavened dough that are stuffed with various fillings.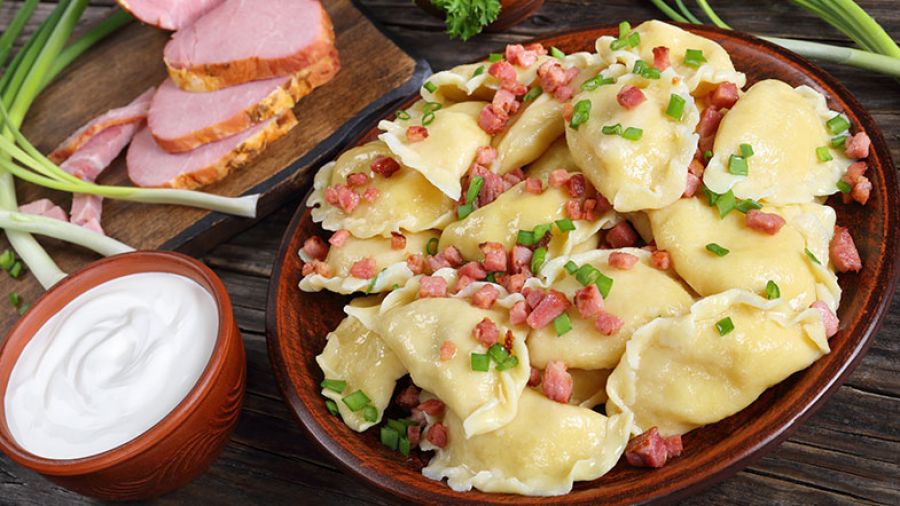 Here is a basic recipe for pierogies:
Ingredients:
For the dough:
2 cups all-purpose flour
1/2 tsp salt
1 large egg
1/2 cup lukewarm water
1 tbsp vegetable oil
For the filling:
2 cups mashed potatoes
1/2 cup grated cheddar cheese
1/4 cup chopped onion
2 tbsp butter
salt and pepper to taste
Instructions:
In a large mixing bowl, whisk together the flour and salt. Make a well in the center of the flour mixture and add the egg, water, and oil. Mix everything together with your hands until the dough comes together.
Knead the dough for 5-7 minutes, until it becomes smooth and elastic. Cover the dough with a towel and let it rest for 30 minutes.
While the dough is resting, prepare the filling. Heat the butter in a large skillet over medium heat. Add the chopped onion and sauté until it becomes translucent. Remove the skillet from the heat and add the mashed potatoes and grated cheddar cheese. Mix everything together and season with salt and pepper.
On a floured surface, roll out the dough to a thickness of about 1/8 inch. Use a round cookie cutter or a drinking glass to cut circles out of the dough.
Place a spoonful of the potato and cheese filling onto the center of each dough circle. Fold the dough over to create a half-moon shape and pinch the edges together to seal the pierogi.
Bring a large pot of salted water to a boil. Carefully drop the pierogies into the boiling water and cook for 2-3 minutes, or until they float to the surface.
Use a slotted spoon to remove the pierogies from the water and place them on a plate. Serve hot, with sour cream or butter for dipping.
You can also experiment with different fillings for your pierogies, such as sauerkraut, ground meat, or fruit. Enjoy!