How to Make Stuffed Cabbage?
02.02.2023
Stuffed cabbage, also known as golabki, is a popular dish in many Eastern European and Middle Eastern countries.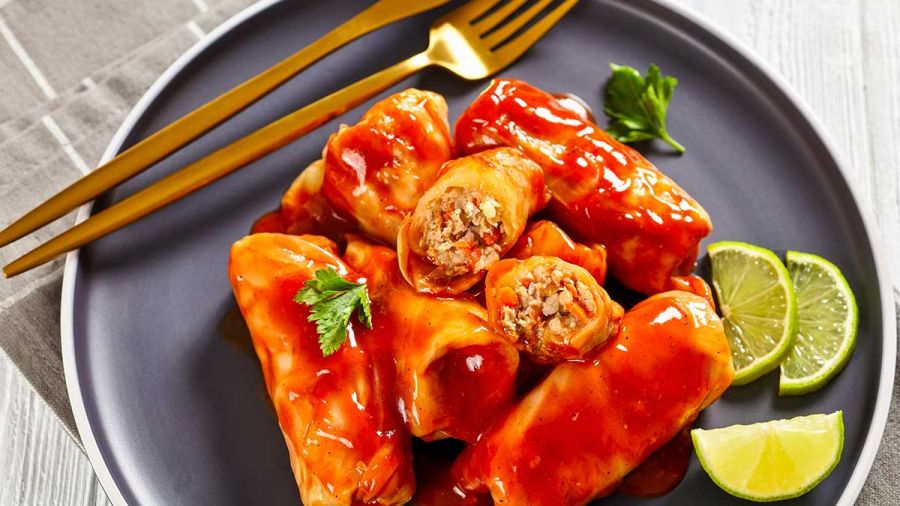 Here is a recipe for stuffed cabbage:
Ingredients:
For the filling:
1 lb ground beef or pork
1/2 cup uncooked white rice
1 small onion, finely chopped
2 garlic cloves, minced
1 egg
1 tsp salt
1/4 tsp black pepper
For the cabbage rolls:
1 large head of cabbage
2 cans (14 oz each) tomato sauce
2 cups beef broth
2 tbsp brown sugar
2 tbsp lemon juice
1 tsp salt
1/4 tsp black pepper
Instructions:
In a large mixing bowl, combine the ground meat, uncooked rice, chopped onion, minced garlic, egg, salt, and pepper. Mix everything together with your hands until well combined.
Remove the core from the head of cabbage and place it in a large pot of boiling water. Blanch the cabbage for about 5 minutes, or until the outer leaves become soft and pliable.
Carefully remove the cabbage from the water and place it on a cutting board. Cut off the thick vein from the bottom of each leaf, being careful not to tear the leaves.
Take a small amount of the filling (about 2-3 tablespoons) and shape it into a ball. Place the ball at the bottom of a cabbage leaf and roll the leaf tightly around the filling, tucking in the sides as you go. Repeat with the remaining filling and cabbage leaves.
In a large pot or Dutch oven, combine the tomato sauce, beef broth, brown sugar, lemon juice, salt, and pepper. Place the cabbage rolls in the pot, seam side down. Spoon some of the tomato sauce over the top of the cabbage rolls.
Cover the pot and simmer the cabbage rolls over low heat for 1 1/2 to 2 hours, or until the cabbage is tender and the filling is cooked through.
Serve the cabbage rolls hot, with some of the tomato sauce spooned over the top. Enjoy!